My fascination with Lady Gaga began in high school. I went to the poppiest of pop high schools, where I wasn't bullied, but always viewed as a little different, an ultimate goal of mine. Being known as the music guy, people often asked me what kind of music I was into. Now, most classmates wouldn't have heard of something as rudimentary as the Black Keys, but everyone knew Lady Gaga. Most opinions of her were this, "I like her songs, but the way she dresses is too weird." I've never hated pop music as much as most (insert term for cultural elitist here), and I genuinely liked Lady Gaga. Both The Fame and The Fame Monster, were Lady Gaga saying, "I'm a pop star, but I like high fashion, and I'm different." So by saying that I liked the way she dressed or her music videos, my peers could gain more insight into who I was.
With her second full-length, Born This Way, Lady Gaga presented herself as more of a gay activist than a pop star. Although not as commercially successful as her previous work, I liked Born This Way because it was Lady Gaga transforming herself into something other than "weird". In a sense, Born This Way is an album that symbolizes gay-rights movement.
The concept of ARTPOP, as described by the Lady herself, is reverse-Warholian. Being that this is The Vinyl Warhol, and I love Andy Warhol, I was intrigued. Where Andy took what was popular and made it art, Gaga is doing the opposite. Her goal with ARTPOP was to take the lucrative world of fine art, and put it into mainstream music. But was she successful?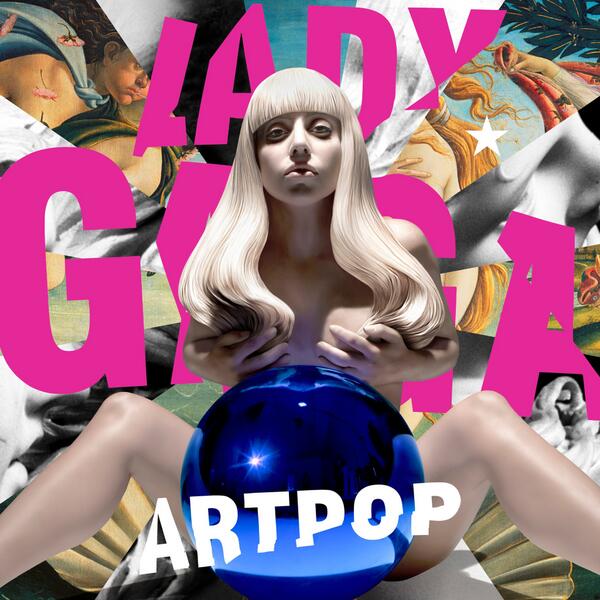 The Gallery of Gaga is an expose of everything, kitchen sink included. This album is nothing if ambitious. "Aura" starts with Spanish guitar before diving into a grimy electronic beat cloaked with a burqa of synth pop. "Aura" is a solid opener. The hooks are catchy, and Gaga delivers lines like, "Enigma pop star is fun, she wear burqa for fashion," with sly gripping vocals. As the album continues, you realize that the dear Lady isn't shooting for number one singles on ARTPOP. She's doing what she wants. With "Swine," the experimentation works. The beat builds as Gaga sings, "I know, I know, I know, I know you want me, you're just a pig inside a human body," and climax with an erupting pig squeal. "Fashion" is another one of my favorites. The disco shimmer on the track takes me to Studio 54. The synth lines are more infectious than the coke lines, drawing inspiration from Daft Punk as Lady Gaga sings about glitz and glamour.
However, other times on ARTPOP Lady Gaga's all-over-the-place sound falls flat. "Jewels & Drugs" is without a doubt the worst song in her whole catalogue. She tries for trap music. But, the beat doesn't work. The verses suck. "Don't want your jewels, I want your drugs," makes me cringe. Everything is a disaster. I can applaud (pun intended) her attempt, but next time try getting someone who can spit a decent verse (Too $hort, really?!). "Dope" is another song I have issues with. Gaga debuted the song at the Itunes festival, under the name "I Wanna Be With You". I loved the song, but she changed it into a song a about a relationship being like drug addiction. The song lost its backbone, and she still hasn't written a ballad that can live up to "Speechless".
With ARTPOP being 15 songs long there were bound to be songs that didn't live up to others. But, there are really only a few songs, "Mary Jane Holland" and "Jewels & Drugs", that don't do much for me. "Sexxx Dreams" is pop gold, it's dirty, and I love it. "Manicure" is infectious, and the guitar solo that ends the song is awesome. In "Donatella", a song that slowly grew on me, Gaga sounds like Meryl Streep in The Devil wears Prada, as she talks about the evils of high fashion. "Do What U Want" is one of the album's best, and R. Kelly is hilarious. Overall, I thought ARTPOP was much better than Born this Way, and I enjoy the album thing more than The Fame.
If you can't look at ARTPOP as a well-done piece of music, try seeing it as a representation of our culture. Because, as my Art History professor states, "Art is a reflection of the culture that created it." If ARTPOP is the combination of art and culture, then in your opinion, what does that say about our culture? This has been a review. Good day.
Follow The Vinyl Warhol on Facebook and Twitter for more music updates.